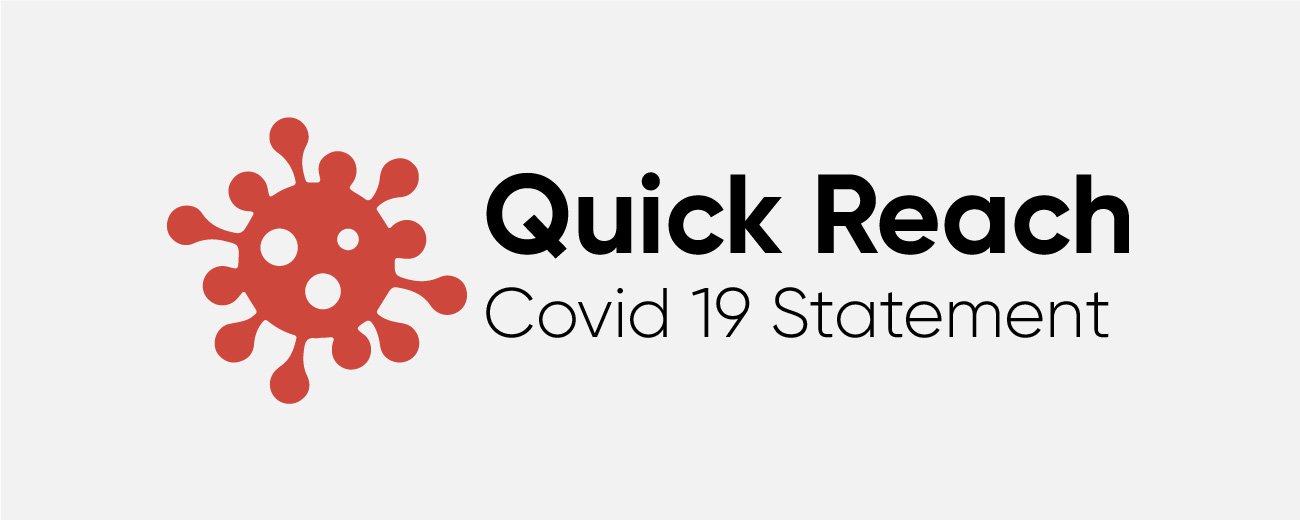 Quick Reach Covid-19 Statement
The following statement is for Quick Reach Powered Access' customers, supply chains and our employees.
As a business we continue to communicate with employees through a variety of channels that we utilise normally including phone calls, SMS, and video conference facilities.
Quick Reach continues to monitor and update its response to this unprecedented event and is actively following the advice distributed to us by the UK Government, local authorities and the national health service.
Our upmost priority, as always is the health, safety and wellbeing of our people and customers during this time. Contingency to manage and minimise the risk to people have been put in place and will continue to evolve as this situation and advise changes over the coming days, weeks and months. As a business we remain committed to delivering an excellent and safe service level to our customers.
Quick Reach have and will continue to deliver the standards below;
Issue toolbox talks to all staff to raise awareness of the situation in the workplace.
A specialist, detailed risk assessment has been issued specifically for Covid-19.
Additional depot signage has been ordered and installed in our locations.
Office staff numbers have been limited so that we can maintain the 2metre distancing rule.
Training will only be carried out where we are satisfied that we can maintain a safe distancing.
Delivery drivers and engineers are no longer requesting signatures from the customers. Instead they are taking images of the machine and signing all pda's/paperwork with 'covid 19' in the signature box.
Providing hand sanitiser /anti-bacterial hand wash at entry and exit points at all depots and providing our customers with free hand sanitiser upon delivery.
Sanitising surfaces regularly and increasing general cleaning and hygiene levels at all locations.
Sanitising our machines after and before each hire. Our drivers must now clean a machines controls before loading commences.
Specialist air conditioning sanitisers are being used in our trucks when we are changing drivers and we are treating our telehandlers air conditioning systems also after each hire (where equipped).
Working from home where this is possible and reducing unnecessary traveling.
All unauthorised visitors are banned from our premises.
We are using Zoom to host all meetings to avoid face to face contact.
We continue to monitor the situation daily and where necessary, Quick Reach will update and amend this statement.
We would like to thank all of our customers, supply chains and our fantastic team for their support during these difficult and challenging times. If any additional information or advice is required, please get in touch, we are here to help.

Jim Dorricott
Engineering Director
---
We work with the best…
Quick Reach work closely with the main manufacturers