Since the very beginning Quick Reach has always prided itself on its ability to stay ahead of the curve, especially when it comes to innovations.  Always on the lookout for new ideas and ways to improve safety and efficiency when working at height, David and John Barton welcome fresh concepts and designs.
Whilst a client was working on a major project in Aberdeen it became very apparent how difficult it was to safely install large plasterboard partitions at height without endangering the operatives and other workers below the MEWP.  There was a serious gap in the market for a piece of equipment which was not only safe but could also make accessing, and consequently installing, the plasterboard much more efficiently.
A market leader who delivers interior packages through genuine collaboration with clients tested and patented a tool which could ensure the safety of their operatives.  Quick Reach now exclusively supply these innovative frames, which facilitated not only a safer working environment but also a more productive one.  The system has since been endorsed by many Construction Director's and Safety Manager throughout the UK.
The MEWP Mate can be used to support and carry boards weighing no more than 92kg swl.  Quick Reach is the only place where you can hire this piece of pioneering equipment.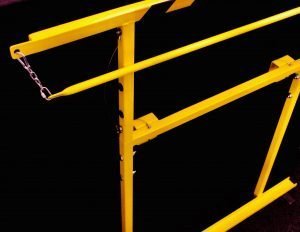 Take a look at the MEWP Mate in action: