With over new 270 new machines confirmed to join the fleet over the next 6 months and a new depot opening in Teesside in October, we are determined to continue our impressive growth strategy.
Our latest order totals a remarkable £7.5 million, with the latest booms, scissor lifts, forklifts and telehandlers being supplied from a wide range of top manufacturers; LGMG, Genie, JLG, Manitou, Dingli, NiftyLift and Haulotte.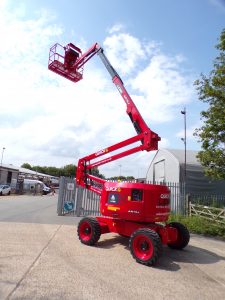 "Our recent investment of over 7 million drives an extensive growth strategy that will also support our new Teesside depot.  Quick Reach is in its strongest position in our short history; to respond to this COVID-19 crisis and to prepare for the recovery to come. This includes the strength of our balance sheet and cash flow, as we remain focused on disciplined capital allocation and cost management.

It's been a year since we tragically lost John Barton (my brother & Co-founder of Quick Reach) and with all the Global uncertainties we still face it's great to share positive news. We look forward to announcing further growth news in the months to come."

David Barton, CEO (Quick Reach Group)
We are dedicated in providing the most eco-friendly, sustainable and reliable equipment for their customers which is why a large portion of our order is made up hybrid and electric equipment.  With the newest division (Quick Reach Industrial Services) focused on supplying equipment to more stringent work environments; we  are ensuring all their new purchases will be ready and equipped for COMAH site specifications.
"Over the last two years the business has closely been monitoring reliability statistics and also the overall cost of ownership by manufacturer.  We have carefully chosen our suppliers on the back of this work to provide only the very best products for our customers."
"A large percentage of the equipment purchased is powered by Hy-Brid technology in line with our business strategy 'reaching for greener' and we are particularly excited to welcome the new Haulotte HS18E pro into fleet later this year as a first real alternative to diesel powered variants."
"We have also made a substantial investment into telehandlers and forklifts to support our Industrial side of the business, all of this equipment will arrive with full COMAH specification.  The new kit is already starting to arrive and will be fully delivered by Q2 2022."
New Arrival Manitou MT 30-4
"As a business, we will be closely analysing rate trends by product type which will be pivotal to all future purchases, all of our recently purchases machines are brand new models with the latest tier engines and/or hybrid technology."

Jim Dorricott, Engineering Director (Quick Reach Group)
With CapEx left to spend the we are expecting to invest more money in new equipment before the end of the year.