Here at Quick Reach, we want to do whatever we can to support young aspiring professionals, teams and individuals to achieve their dreams.  We have sponsored local, junior football/rugby teams as well as a professional BMX Rider competing in the world circuit.  This year we wanted to do what we can do support the Arts, after a tremendously difficult year we felt that an emerging theatre company deserved a portion of our allocated funding.
Piccolo Theatre was founded in 2016 by George Rexstrew and Kate Barton whilst the pair attended Durham University.  After the success of their first show 'Swallow' (Stef Smith) at NSDF (National Student Drama Festival) in 2017, the duo have been working hard to bring their much larger venture 'Screen 9' (Kate Barton) to the professional stage.
Now, after an entire year of waiting for its professional debut, 'Screen 9' has finally managed to hit the stage this year.  Following successful previews in both London and Durham in July, the play is now being performed at Edinburgh Festival Fringe.
I caught up with Kate earlier in the week to find out more about 'Screen 9.'
Can you give us a little synopsis of Screen 9?
Screen 9 is a verbatim piece of theatre telling the true story of the survivors of the 'Batman' shooting in a cinema in Colorado back in 2012. It is a reclaiming of the story from their perspective. We wanted to share what the media tends to miss – what happens after such a devastating event and how communities respond and recover to tragedy.
What inspired you to write the play?
We are a transatlantic theatre company, so this is a really int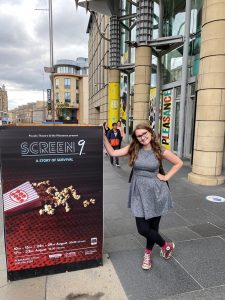 eresting production for us. I think there is a lot of fascination in the UK about American culture and cinema.  Especially the worlds of Marvel, DC and comic books I wanted to recount the story of something really tragic set in a space which we love – the cinema.
I was also inspired by the international look at America, in the sense of how and why is there still such a huge gun debate?! As horrific as this shooting was, nothing has changed since and there are still so many mass shootings across the country each year. I wanted to explore why these shootings still happen and offer a proposed solution to the problem at hand.
I felt compelled to retell this tragedy from the victims' perspective so they could reclaim their story, rather than putting the emphasis on the shooter which happens too often in the media.
This show has been years in the making, just how relieved are you to be back in the theatre this year?
Very, very relieved to be back in the theatre!  It's really nice to be back working in person again, although we did conduct some read throughs online and some rehearsals on zoom it never really feels the same.  After such a horrendous year for the arts and theatre it really does feel good to be back.
Can you describe 'Screen 9' in three words.
I think I'd go with 'Moving True Story.'
How has Quick Reach's funding helped to get the show up and running?
The funding has definitely helped us put on this production!  As an emerging theatre company, we have been reliant on the Pleasence theatre's funding which we received as part of the Charlie Hartill award last year, Arts Council England as well as the support from this fantastic business.
The funding has enabled us to pay our actors for the rehearsal process, give us that space and time to really develop the piece so it can, hopefully, be as much as a success as possible! It's worth saying as well that the Quick Reach team have been so supportive in sharing the good news and promotion.  It's obviously been a very difficult year, but their support has meant so much, we are really appreciative that we have garnered their support.
It's opening night tonight! How are you feeling?
Nervous and very excited! It's been a really long time in the making… this production has been in development for a while, so we are really excited to bring it to wider audience. Edinburgh Festival Fringe has a huge international reputation, I think it's a great stage for a story of this scale, so we can spark an international conversation.
You've also partnered up with the charity Survivors Empowered, could you tell us a little more about that.
We are incredibly grateful to our partner Survivors Empowered who have given us a huge amount of support and inspiration for this production. Survivors Empowered is an American charity providing free therapy and support for anyone whose life has been changed by the devastating effects of gun violence, they work across the USA, and do remarkable work. They are very often the first on the scene, after the police, at any major shootings in the US.
The charity was founded Sandy and Lonnie Phillips who tragically lost their daughter, Jessica, in the Colorado shooting in 2012.  They have very kindly leant their words to be included in the production.
When/where can we see Screen 9?
We will be performing at the EICC (Edinburgh International Conference Centre) from Tuesday 10th until the 29th August.
8.40pm, for the first week (10th -15th)
2.30pm, for the second week (17th-22nd)
8.40pm for the final week (24th-29th)
We have Mondays off – so we are 6 days a week Tuesday to Sunday.
——————–
If you're up in Edinburgh this month be sure to check out this powerful 5-star performance.  Tickets for tonight's performance (12th August) are 2-4-1 with promo code SCREEN241 at www.pleasance.co.uk
Finally, an enormous 'Good Luck!!' to the cast and crew of Piccolo Theatre from the entire Quick Reach team.