From February 1st 2022 we officially became an accredited provider for IPAF PAL+ training.
What is PAL+?
PAL+ is a specialised course aimed at delegates who work in higher risk/more challenging environments e.g. steelwork, maintenance, installation, electrical work and welding in confined overhead spaces.
Just like a PAL operator qualification; the PAL+ is valid for 5 years. PAL+ training is available to delegates who already hold an existing PAL card in their relevant category.
Is training different on a VR simulator compared to a real machine?
The simulator is specifically designed to feel and operate exactly like a real machine. The training is the same course you would expect to be carried out by an approved International Powered Access Federation (IPAF) instructor and has been approved for use by IPAF based on extensive testing. Think of it like a pilot using a flight simulator as part of their training.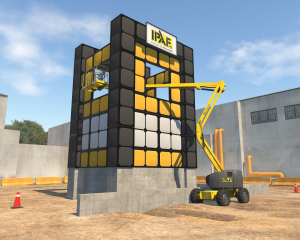 Can I try the simulator before my training and test?
Yes, before you start your test our instructor will help you get familiarised on the simulator.
Are there any health concerns?
Please let us know if you suffer from photosensitive epilepsy, aversion to flashing lights, or any health condition which might prevent you from operating a real MEWP, car or going on a roller coaster in a theme park.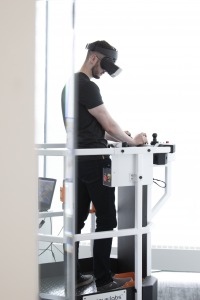 I'm interested! How do I book my team onto a course?
Easy! You can get in touch directly with our fantastic training department.
The practical session on our VR Simulator is quite long so we recommend two delegates to participate in the morning and the next two to come along in the afternoon – so no one is waiting around! Our instructor will direct delegates to complete the theory part of this qualification online.
We are a CITB Approved Training Organisation for IPAF and just like the Operator PAL qualification the PAL + can be supported through the Construction Industry Training Board (CITB) grant scheme.
At the moment our simulator is based in our training facility in Manchester but it can be transported to any of our other depots.
If you have a large team requiring this qualification we can bring the simulator to you at an additional cost.
To find out more and book onto a course, get in touch with our team today:
0161 789 5600
See the VR simulator in action: