We are excited to introduce our new range of gas-powered forklift trucks – Manitou MI-25Gs. These compact forklifts are lightweight, easy to manoeuvre and suitable for both indoor and outdoor work.
The MI-25Gs run on liquefied petroleum gas (LPG) a cleaner fuel compared with diesel, making these forklifts ideal for indoor industrial environments.  This forklift not only produces lower emissions; it also requires no re-charge time – which can often be an issue for electrical powered forklifts.
We purchased our new MI-25Gs from Hessle Fork Trucks Ltd, the largest dealer of Manitou fork trucks in the country. The team at Hessle never fail to deliver top-quality material handling solutions for our customers.
We got in touch with the team at Hessle to tell us a little bit more about our new additions:
The MI range, which includes the MI25G perfectly represents Manitou's involvement in Industrial markets.

The MI25G has been designed around user expectations such as simplicity, comfort, reliability and efficiency. All at the lowest operational cost.

The machine has been designed with visibility and safety as a priority.

The spacious and comfortable drivers cab provides the operator with outstanding driving comfort making work less tiring and improving productivity.

The trucks are equipped with Monobloc chassis with strengthened masts and axles. With the combination of a powerful and clean engine, also recyclable materials used in the production of the machine, it helps reduce the impact the machine has on the environment throughout its serviceable life.

 The MI25G is perfectly suited to many Industries. The tyres, engine power and robustness of the machines are designed for intensive use.

 The MI25G can make so many tasks easier.

-Theresa Kuerschner, Access Equipment Specialist, Hessle.
Model Name: MI 25G 2T5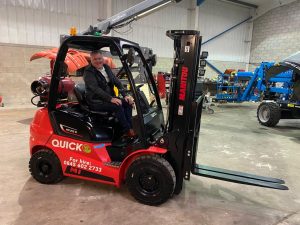 Power Source: LPG
Operator type: Seated
Max Capacity: 2500kg
Load centre of gravity: 500mm
Load distance, centre of drive axle to fork: 265mm
Interested in hearing more about our fantastic range of material handling solutions?
Get in touch with our helpful team today:
0161 789 5600